DrupalCon NOLA - food, music, sprint (rinse and repeat)
My apologies for those skipping through the travelogue to get to the Drupal... Or skipping through the Drupal to get to the travelogue. If I do my usual (painfully) painstaking editing job my DrupalCon posts will come out in July, so I'm settling for a chronological stream-of-consciousness here for the sake of timeliness.
Saturday was a long day - hopped onto the City of New Orleans in Carbondale just a little shy of 2am, slept only fitfully on the train, after 13 hours of sitting in the train decided to walk from Amtrak to my hotel on Esplanade (38 minute estimate on Google maps), missed a turn and the modified route took me by Café du Monde (damn, forced to stop for beignets and an iced cafe au lait, life is tough;)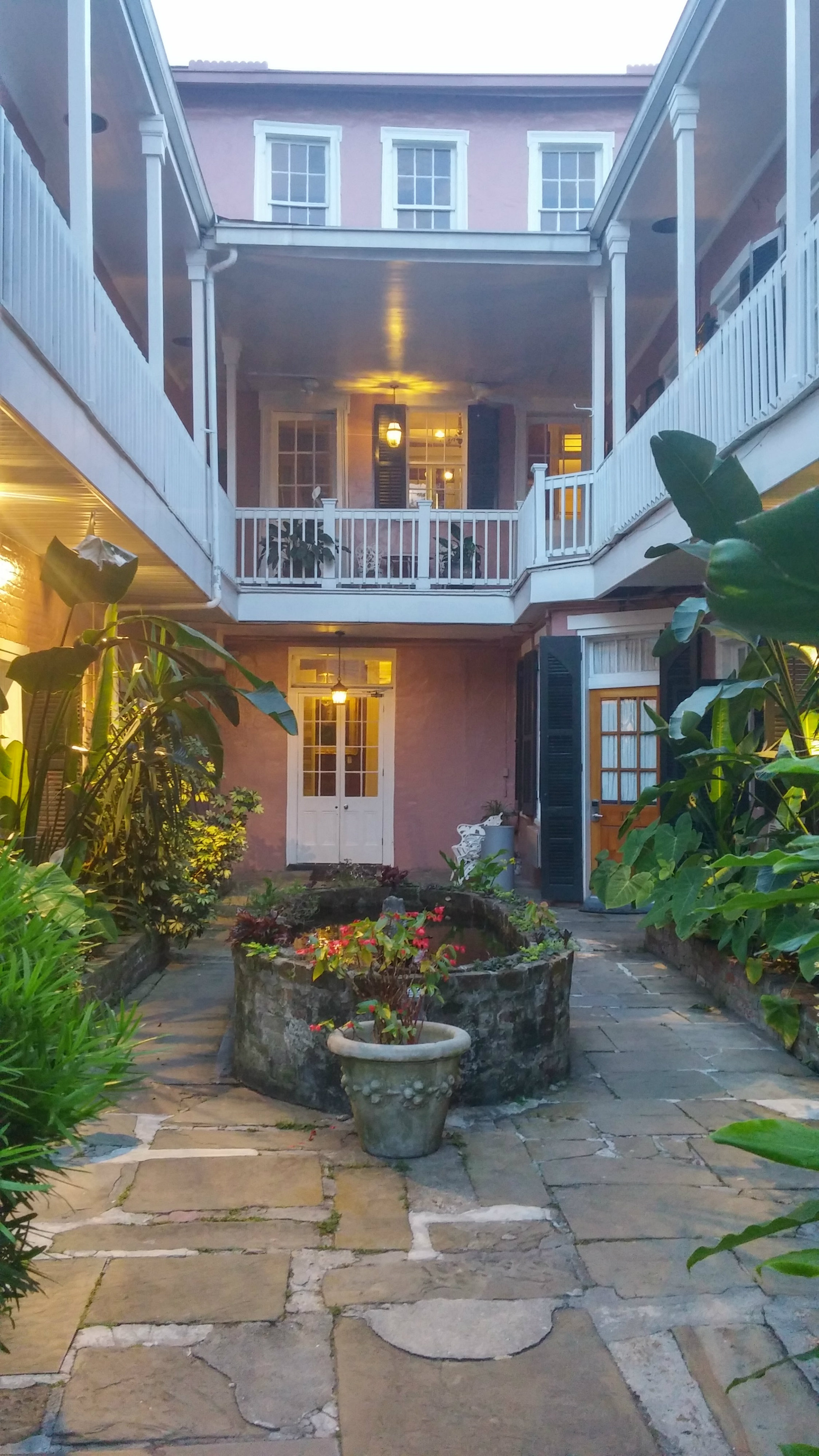 I've been to New Orleans three times before, always at Jazz Fest time. Always a great time - but after several hours wandering around the fairgrounds (often ankle deep in mud), or pitching in on rebuilding on non-fest days the last couple of trips, I never had energy left for the music clubs. I decided to rectify that this time, taking a room at Lamothe House on Esplanade, convenient to the Frenchmen Street scene.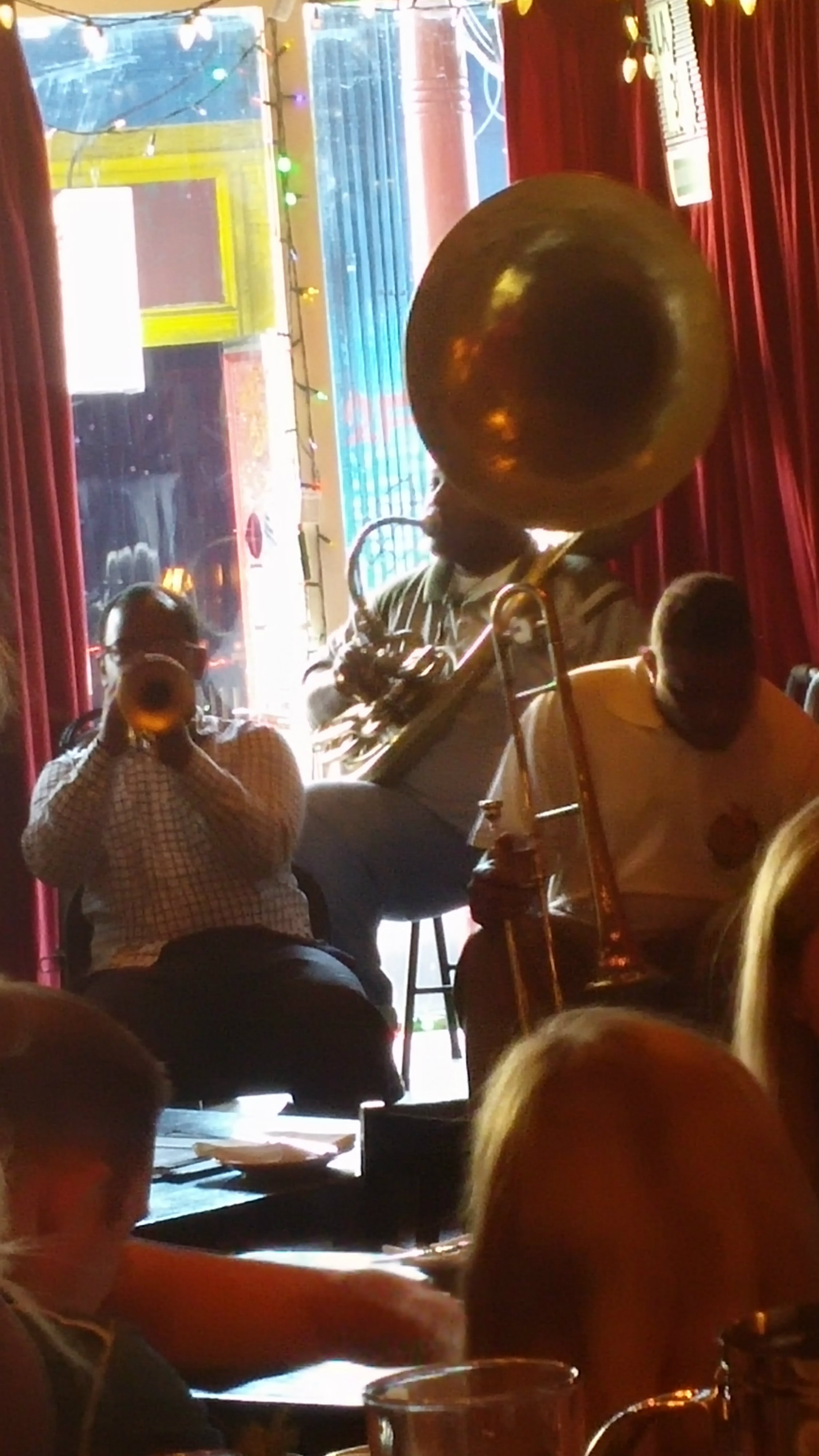 Despite a long travel day, I caught a second wind and went out that night, having dinner and a few drinks at Three Muses. Really nice little place - had an excellent meat & cheese platter at the bar, and sampled a few of their cocktails (I know Sarah would have loved The Muse if she were here, but I favored the Spaghetti Western). I caught three sets of Glen David Andrews, lots of fun - three brass (tuba, trumpet, and the leader on trombone) with a pianist trying his best to be heard (no amplification).
Stepping back out onto Frenchmen Street, I was greeted by a classic street band at the corner of Chartres, really solid and tight and putting on quite a show. As I write this Monday night, I can hear them clearly from my hotel room - a part of the incredible vitality of this most American city.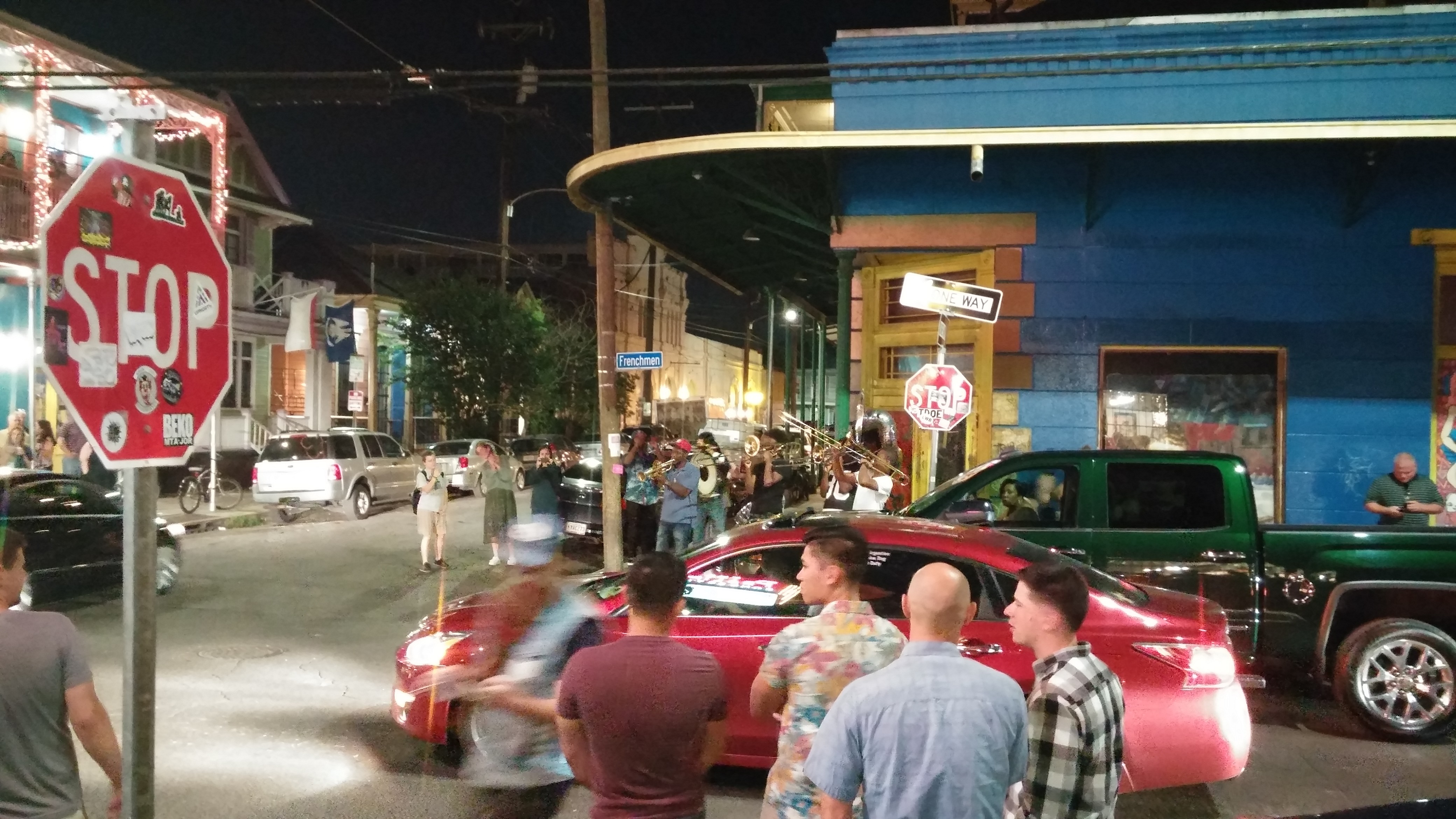 Sunday sprint
After a slow start, on the way to LaunchPad for Sunday's extended sprint I stopped by the Camellia Grill (a.k.a. The Grill) at Chartres and Toulouse for an excellent sausage and cheese omelette. Now, finally, to some Drupaling...
This day was about triage. I spent the middle of the day pulling the most important issues in various categories - potential backwards-compatibility breaks, functional changes broken down to general effects, UI, and module-specific migrations, and bugs - into a spreadsheet. In the afternoon xjm, alexpott, ryan-weal, benjifisher, and I started reviewing the "Migrate critical" issues in core (that is, issues that would have a severity of Critical if the migration system were not still experimental). We got about halfway through the list - which is better than it sounds, because this list was sorted by creation date, guaranteeing that the issues that have been open for 3 years (i.e., the hard ones) came first. This was a very productive session - identifying duplicates, reclassifying and reprioritizing some issues, and doing some brainstorming on solutions for a couple of tricky ones (Invalid passwords after D7 to D8 migration and Better handle replacement of missing filters with filter_null). Six of the 14 issues we tracked in the spreadsheet are now resolved.
My second (and third) wind gone, I stuck to a little takeout - fried chicken sandwich and small chef salad from Verti Marte. The sandwich was really good, but I found the salad kind of meh (perhaps something odd in the balsamic dressing).
Monday sprint
Breakfast on a nearly-deserted Frenchmen Street, at Cafe Rose Nicaud - had the Southern Breakfast, highlighted by rosemary cheese grits and alligator sausage.
More so than the Sunday sprint, this was a chance to reacquaint with folks from the past, and put new faces to some old names - always good, and just a start with things going into full swing on Tuesday.
My first sprint task of the day was to pick up one of those migrate-criticals - verifying that the old no_stub bug had been fixed by other means. Always good to cross stuff off the list...
The bulk of my time today was spent on Refactor EntityFile and use process plugins instead - it's been a WTF for a while how the destination plugin peeks at the source plugin configuration, and vice versa. I picked up on benjy's proposed solution and came up with a patch that works with my D6 site. Basically, the idea is to take everything dealing with the physical file out of the destination plugin and put it into a process plugin named "copy_file" - the destination plugin now only has to do a couple of truly destination-plugin things, and breaking the file copying into a process plugin (oh, and also breaking the urlencode step into a process plugin) is much more flexible - this functionality can now be used anywhere a file might need to be copied, not just when creating file entities. There are a few pieces left to this for anyone who wants to help out - manual testing with D7, fixing tests to reflect the changes, and of course review - feel free to step in now, and anything not done in the next couple of days we can address at Friday's sprint.
At the tail end of the day I started looking at Migrate D6 i18n nodes, which I think should be our first priority of the remaining tasks this week. Specifically, I was trying to figure out the mysterious D7 user migration test failure. Didn't quite get there, but hopefully I'll find a little time Tuesday for that. Beyond that, my current project has a need for this functionality, so my primary role here will be giving the patch some real-world testing with that.
Topped off the day with a trip off the beaten track to Fry and Pie - if your idea of a great meal is a plate of fries smothered in stuff (like, say, chicken andouille okra gumbo and Wisconsin cheese curds) followed by a little tart-size pie, this is the place for you! Just make your way through the Hi Ho Lounge to the back patio and tell the guy at the table in the corner what you want...
Looking forward the DrupalCon starting in earnest tomorrow morning - Prenote and Driesnote, here I come!